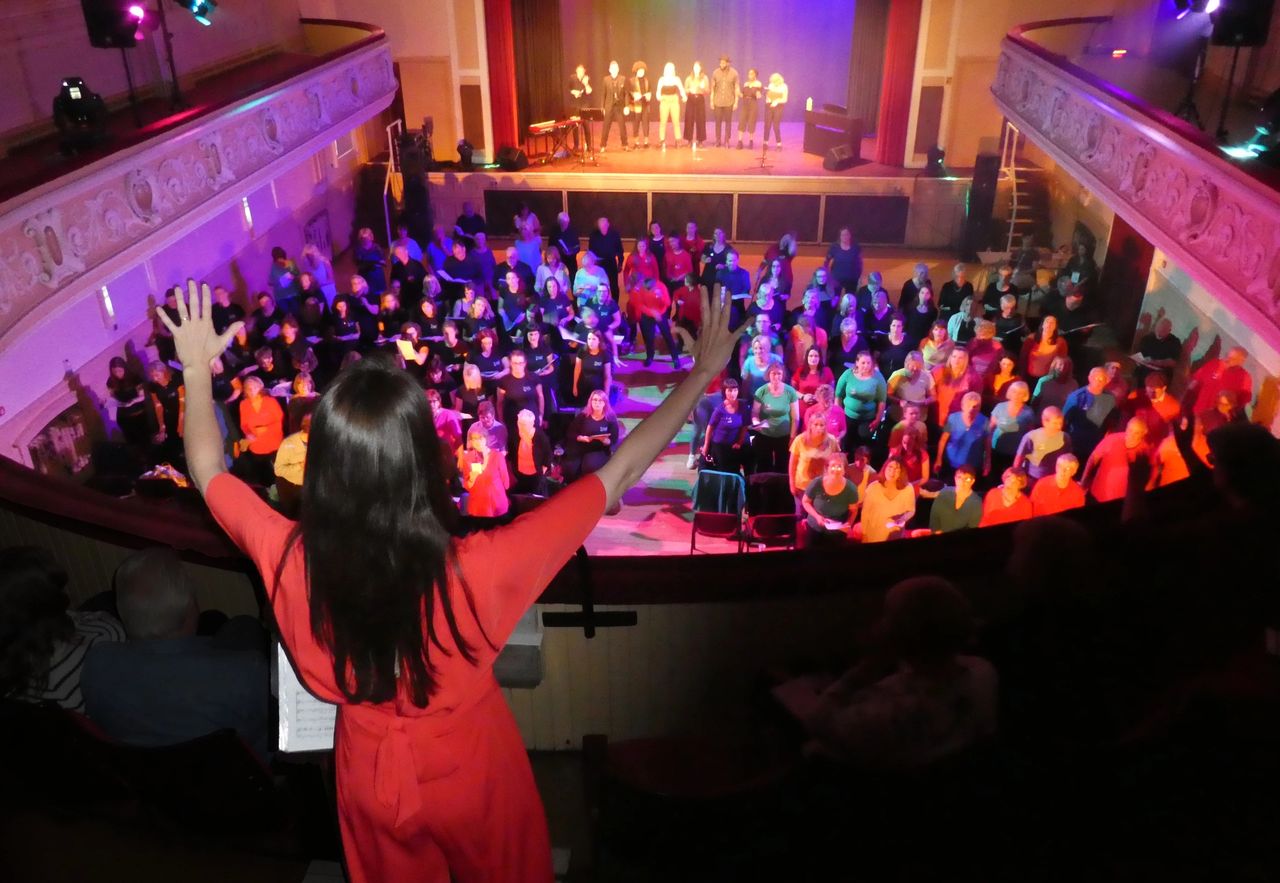 Here at Fanfare Music the philosophy behind everything I do is 'Music For Everyone'. My belief in the power of music to do good is what encouraged me to take the plunge and start the business just short of two years ago.
I wanted to provide music tuition which was fun, accessible to all and not overpriced. I wanted to provide a choir which accepts all and which brings choirs to the forefront of people's minds in our community. I wanted to share my passion for educating the very young in music with other parents. I wanted to create events which would bring people together and make a difference to their lives and in the community in which we live. I also wanted to have some fun!
I've grown up with music: playing, singing, writing, listening, watching. But who hasn't? Most people have listened to music since they were inside their mother's womb. It is an integral part of what we are as a society. And for this reason I believe that everyone should have access, should they want it, to a music education, so they can join in making music and creating experiences for themselves, their families and their communities.
By music education I mean piano lessons, singing in a choir, and everything in between.
Fanfare Music now provides piano lessons in a range of guises: individual lessons (definitely not your traditional 30 minutes sat at the piano though!), group lessons, rotating lessons (where three students occupy an hour doing three twenty minute rotating stints - at the piano with me, theory and work at a second piano) and buddy lessons (where students have a session by themselves and then a joint session learning to duet, improvise together, play games and so on).
The singing opportunities provided are a pop choir in Ossett and a singing group for mums (and dads!) and their tots and babies. I also direct a community choir during the day in Horbury. In these three sessions I sing with a whole host of people - confident soloists to shy back row choir members, young and old, male and female, musical and no so much. But the one thing they all have in common is a love for singing in a group.
Singing in a group is an opportunity to bond and forge friendships and a choral community is proven to bond faster than other communities. The experiences a choir go through together are endless and exciting - from performances, to social events, to sweat, blood and tears-type rehearsals. But as a community we support each other, work hard, have fun and come through...smiling!
Another way I have started to expand my offerings in the community are by running a short course of choir workshops at the local high school, running charity choir events and providing musical direction at Let's Shine, a monthly workshop for children with SEND - special educational needs and disabilities.
Let's Shine provides activities and games which help children grow a love of music, and the activities are all differentiated so that children with SEND can access them. My colleague Kirsty is responsible for differentiating the activities and making sure everyone benefits as much as possible from the activities. My role is focussed on the musical and the delivery of the spoken (and sung!) part of the sessions. This is a particularly exciting project as there is nothing like this available anywhere else in the North of England!
Finally, a great passion of mine is creating exciting musical events for people. I'm known by my nearest and dearest as an 'organiser' and there's nothing I enjoy more than seeing people smile at an event they are pleased they attended! The West Yorkshire Choirs Pop Festival has become my fourth child over the last year and I'm currently working on the 2020 event. The idea behind the Festival is to bring choirs from around the region together, singing, learning and having fun together. Next year, this will take the form of workshops, performances for an expert panel, massed pop choir and a pro-choir-led finale show. It's safe to say I'm a little excited about this.
So, on the surface I'm a musician, deep down I'm an organiser(!), and the result is that I want to improve people's lives through lots and lots of music education and opportunities being provided in the community and wider region.
#musicforeveryone